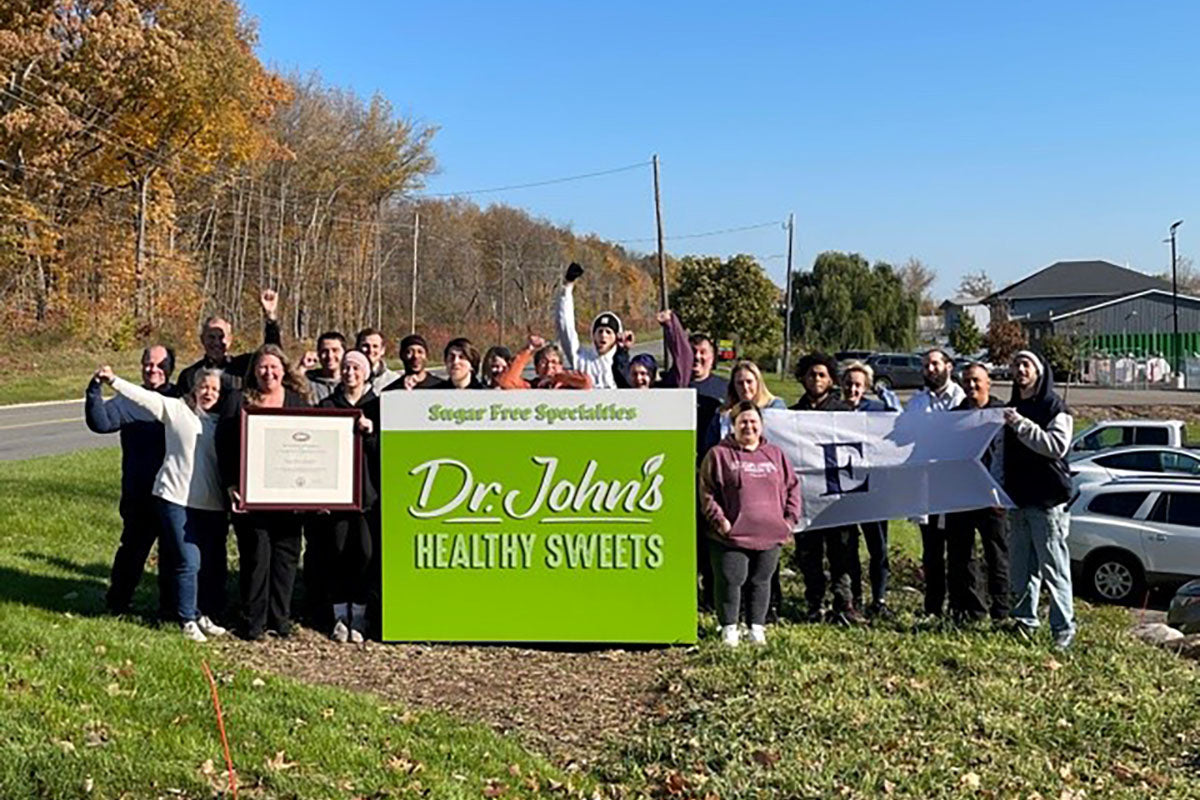 November 8, 2021 [Washington, D.C.]— The U.S. Department of Commerce awarded Dr. John's Healthy Sweets, with world headquarters in Comstock Park, MI., the 2021 President's "E" Award for Export Service at a ceremony in Washington, D.C. on Friday. The President's "E" Award is the highest recognition any U.S. entity can receive for making a significant contribution to the expansion of U.S. exports. Dr. John's is one of three Michigan companies to win the award and the only organization from West Michigan.
Dr. John's specializes in making artesian, sugar-free lollipops and hard candies.  Its Healthy Sweets product line also includes taffy, caramels, gum and chocolates that are natural, sugar-free, a high source of fiber, non-GMO, gluten-free and allergen free. Its products are sold in 10+ countries.
"Sugar Free Specialties [Dr.  John's] has demonstrated a sustained commitment to export expansion.  The "E" Awards Committee was very impressed with Sugar Free Specialties export sales growth accounting for more than 50 percent of total sales. The company's development of products designed specifically for export markets was particularly notable.  Sugar Free Specialties' achievements undoubtedly contributed to national export expansion efforts that support the U.S. economy and create American jobs," said Deputy Secretary Don Graves in his congratulatory letter to the company announcing its selection as an award recipient. 
"Exporting is crucial to the success of our continued growth," said Mike McDonald, CEO of Dr. John's. "Every day we see the growth of our clients' businesses, due in large part to exporting.  This exceptional growth has enabled us to expand locally and globally, adding markets and creating new opportunities."  During COVID, for instance, Dr. John's was able to develop more than one dozen items with either probiotic or vitamin fortifications for one particular global market.
"We have very close relationships with our distributors, logistics companies and our federal, state and local government," said McDonald. "Using these resources in cooperation with our team, as well as exceptional product innovation, has been key to our success."  Since 2018, Dr. John's international sales have grown from $360,000 to nearly $4 million in 2020, with more growth this year.
In total, the Department honored 70 U.S. companies and organizations from across the country for their role in strengthening the U.S. economy by sharing American ingenuity outside of our borders.  The ceremony was held to jointly recognize awardees from 2021, (32 organizations) and 2020, (39 organizations).   
In 1961, President Kennedy signed an executive order reviving the World War II "E" symbol of excellence to honor and provide recognition to America's exporters. Criteria for the award is based on four years of successive export growth and case studies which demonstrate valuable support to exporters resulting in increased exports for the company's clients. 
U.S. companies are nominated for the "E" Awards through the U.S. Commercial Service, the export promotion arm of the of the Department's International Trade Administration. With offices in over 100 cities across the United States and in 75 markets around the world, the International Trade Administration is the premier resource for American companies competing in the global marketplace.
For more information about the "E" Awards and the benefits of exporting, visit www.trade.gov.