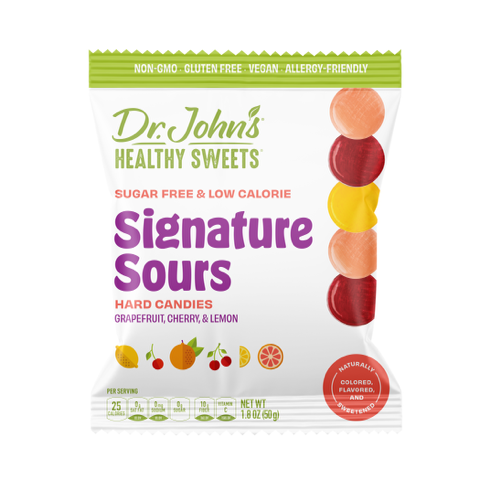 Signature Sour Hard Candy Fruit Mix
Sugar-Free and Great Tasting!
Indulge in a variety of flavors with Dr. John's Healthy Sweets Sugar-Free Signature Sour Hard Fruit Candy Mix 1.8 oz, Bag, featuring the zesty and refreshing tastes of Grapefruit, Cherry, and Lemon. With Dr. John's Healthy Sweets, you can enjoy a candy mix that's as good for your taste buds as it is for your well-being. Our candies redefine the confectionery experience, offering a delightful burst of flavor without the guilt. We believe candy can be more than just a treat; it can also be nutritious. Our candies are fortified with a whopping 10 grams of fiber and provide 150% of your daily recommended vitamin C, making them a guilt-free indulgence. We're proud to be the #1 candy recommended by dentists. Our tooth-friendly candies prove that you can have a treat that's good for your taste buds and your oral health.
Sugar-free, Non-GMO, and low in calories, making them the perfect treat for those mindful of their sugar intake
Grapefruit, Cherry, and Lemon
Fortified with 10 grams fiber and 150%DV vitamin C
Say goodbye to artificial colors, flavors, and sweeteners
Dr John's sour hard candies are crafted using only all-natural ingredients, ensuring you enjoy a pure, authentic taste in every bite
#1 candy recommended by dentists
These sour hard candies are gluten-free, dairy-free, soy-free, vegan, kosher certified, and made in a nut-free facility
Perfect for any occasion, Dr John's healthy sour candies are available in convenient bagged candy packs, ensuring you always have a sweet, guilt-free treat at your fingertips
We only use all-natural ingredients.
ingredients
Dietary Fiber, Erythritol, Citric Acid, Ascorbic Acid, Natural Grapefruit Flavor, Natural Cherry Flavor, Natural Lemon Flavor, Fruit and Vegetable Juice for Color, Turmeric (Color), Stevia Leaf Extract.